A Q&A with PGA Catalunya Resort's Executive Chef, David Vives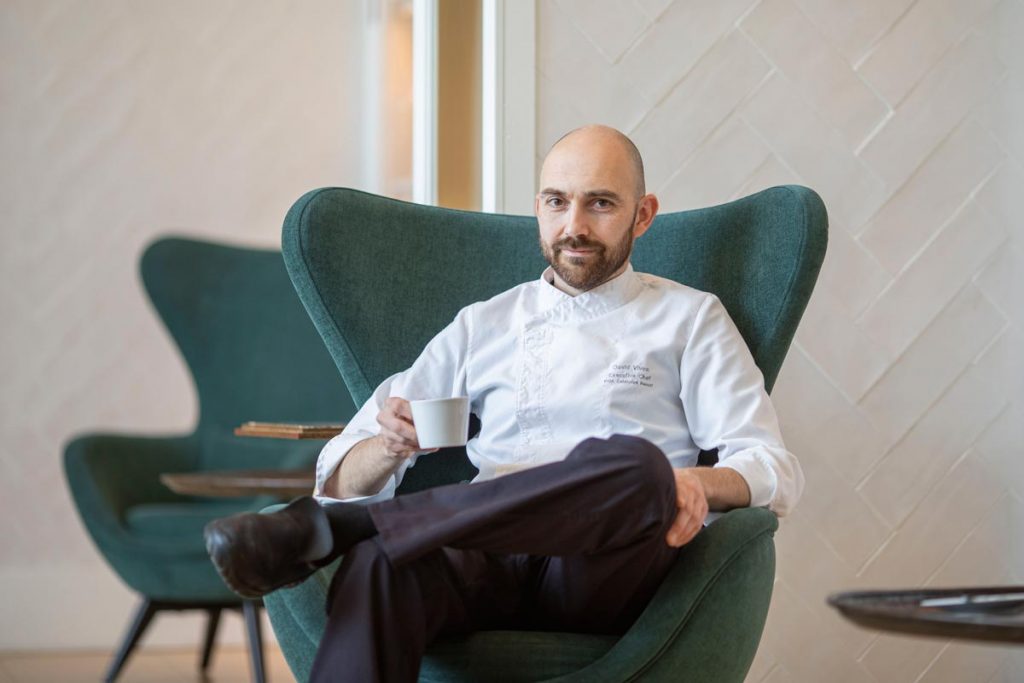 Anyone who begins their career in food at the famous El Celler de Can Roca, three times voted the best restaurant in the world, is likely destined for huge success.
For our Executive Chef, David Vives, the path to gastronomic greatness started there, in 1999, giving him one of the finest groundings a chef could possibly have.
Since then, David has held positions across Spain – including a second spell at El Celler de Can Roca as Head Chef, from 2007 to 2012 – Hong Kong and Singapore, before joining PGA Catalunya Resort in July 2019.
We caught up with David to find out more about his life in food and his vision for PGA Catalunya Resort…
Q: What changes have you made since starting in your role and what types of cuisine can residents and guests enjoy at the resort?
A: We have brought in greater differentiation between the restaurants and given each one their own identity and personality. We want to offer diversity to our residents and guests from our luxury hotel in Girona and this will continue to grow as we incorporate new concepts and food offerings.
We have the fantastic Restaurant 1477, where we take traditional Catalan recipes and put our own stamp on them. It has a diverse menu with each dish designed around one key, high quality ingredient. Our aim is for all the produce used in our dishes to be local and seasonal, so the menu changes every season.
Then we have the Lounge Bar which is more relaxed and has some lighter options. Both the Catalan and international dishes are made with market ingredients of the very highest quality. The menu changes twice a year so we have a spring-summer menu and one for autumn-winter.
Q: You work very closely with PGA Catalunya Resort's environmental biologist, Oriol Dalmau. How does he contribute to the resort's menus?
A: Our partnership with Oriol involves using the aromatic herbs he grows in the vegetable garden, and the honey he produces at the resort(PGA Catalunya Resort introduced one million bees in 2017).
We plan to work much more closely together in the future, planting the specific ingredients we need for 1477's menu, and taking advantage of all the natural resources we have around us.
Working with Oriol means having a broader knowledge of the produce, what's growing on our land and discovering new edible plants.
Q: You've worked in some of the world's most renowned kitchens. Which one has influenced you most?
A: I would have to say El Celler de Can Roca. It's where I started and where I've spent much of my career. It was also where I learned new culinary techniques.
When I started, I discovered low-temperature cooking, which now seems so normal but at the time was being pioneered by Joan Roca, who developed the Roner (a piece of cooking equipment).
However, it was at Carme Ruscalleda's Sant Pau restaurant that I really learned to appreciate the ingredients and look for the best local raw materials.
Q:You have also worked in a number of Asian restaurants. Has Far Eastern cuisine influenced your style in any way?
A: Travelling around different Asian countries gave me the opportunity to discover new ingredients and techniques.
However, my roles in Asia were about exporting Catalan culture. In Singapore I was at the Catalunya restaurant, a tapas restaurant with dishes of Catalan and Spanish culture.
In Hong Kong, at the Ritz Carlton, it was a project where the kitchen was very experimental. This project was the one that gave me the opportunity to travel to different Asian countries and learn more about their ingredients and cooking methods. The country that influenced me most was Japan.
At the moment, there isn't a great deal of Asian flavour in PGA Catalunya Resort's cuisine, but it is something I will be working on at some of the restaurants.
Q: What other experiences have shaped you as a chef?
A: I was at Sant Pau de Carme Ruscalleda for less than a year but it was the most remarkable experience for researching the best local raw materials. I discovered fish and other produce that aren't very well known but have great quality and taste.

At Sa Llagosta, Menorca, lobster was the main ingredient and it gave me the opportunity to expand my knowledge of seafood and go out with the fishermen to fish.
Early in my career, I realised that being a chef is not a normal job; it is your life, your passion. It requires long working hours and absolute dedication. Not everyone understands it or can cope with the lifestyle, but it is incredibly rewarding.
Q: Is there one dish you would recommend for visitors to PGA Catalunya Resort?

A: It's very difficult to recommend one dish as everyone has different tastes. My advice would be to ask our restaurant staff – they are very knowledgeable – and don't be afraid to try new or different things.Come and sample for yourself the superb gastronomic experiences offered by David and his team, as well as all the other wonderful facilities here at our hotel in Girona. Click here for more details and all the latest offers.